Here is what happened that caused me to make this perfect Ayurveda dish for PMS…..
My 19-year-old daughter was looking pretty bad, feeling sick, and laying around all day while simultaneously watching a show on her computer and checking tik tok. It was August 1, a beautiful summer day, and the Full Moon. I asked her what was up.
She told me she had PMS. 
I let her rest and did not say much. Then I went into the kitchen and pulled out my Khichari ( Dal and Rice) recipe. I chose the easiest one I have, just in case she asked for the recipe to take back to college with her. I have been making Khichari all her life. She knows the smell and she likes it. Even during the worst moods of her teenage life, she would still eat my Kitcheree. I like to think of it as the Indian version of Jewish Chicken Soup. Or Italian Minestrone Soup.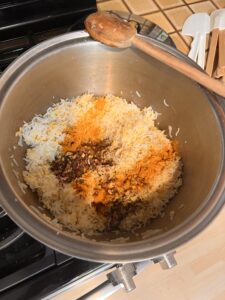 She went to bed without dinner, but when she woke up in the morning she had it for breakfast. This is a great time to eat it as khichari is warm, savory, and generally yellow in color, so if you are used to scrambled eggs in the morning, there is a visual similarity. She felt a lot better after eating and even did some of her laundry.
Kithcaree which is made from Dal and Rice is a perfect complex carbohydrate (protein) and is cooked with spices.  It is easy to digest and ideal for those with delicate digestion. This warm dish soothes the difficulty of PMS that comes from being exhausted, while also feeling heavy, bloated, and emotionally spent.
This is the recipe that I made. I kept it simple and did not use any of the variations, but sharing everything with you here. This recipe originally came from the cookbook: Heaven's Banquet, The Maharishi Ayurveda Cookbook.
Step One
1 cup basmati rice
⅔ cup mung or toor dal (or lentils or split peas)
5 cups of water
Step Two
2 tablespoons ghee
Pinch of hing (optional)
2 tablespoons minced fresh ginger
11/2 teaspoons cumin seeds
¾ teaspoons black mustard seeds
¼ teaspoons ground fenugreek
1 teaspoon turmeric
Salt or liquid seasoning 
Chopped fresh cilantro or parsley (optional)
Bring the rice, bean, and water to a boil in a pot. Cover, reduce the heat, and simmer until the dal is tender, all the water is absorbed, and the mixture resembles a thick porridge, about 1.5 hours. Stir occasionally and be alert toward the end of the cooking so that the mixture does not stick. Add more water if necessary.

Heat the ghee in a small skillet. Add the hing, ginger, cumin seeds, mustard seeds, and fenugreek. Saute over low heat until the mustard seeds "dance". Add to the Khichari. Stir in the turmeric. Add salt to taste. Garnish with chopped cilantro or parsley.
Here are variations
Cook finely cut vegetables in the Khichari. Try green beans, carrots, peas, and zucchini. You can also add black pepper or chilies to taste. 

Garnish with toasted unsweetened coconut shreds or chopped toasted almonds or cashews. 

Stir in a small amount of coconut milk before serving.

Replace Basmati rice with barley if it's hard for you to digest rice or if you are slightly overweight.
I have made a  YouTube video on how to make kitcharee (Kitchari). The recipe above is easier then what is in the videos, but you can get a lot out of seeing how it looks while cooking. And you can try the variations in the video too
I'd love to hear how your Kitcheree turned out. Let me know.
****
If you like this content and want more get access to my weekly Blog drop here and get a copy of my Yoga Journal too. The Journal is designed to help you keep track of your healthy lifestyle practices. 
Check out my yoga website to learn more about what I am teaching, my weekly live schedule and more here.